Repairs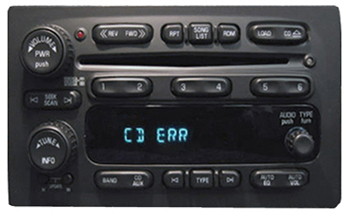 Repairing your radio is MUCH cheaper than replacing the radio. Especially if you have a vehicle made by GM that is newer than 2000. Anything 2000+ requires reprogramming if you replace the radio, but repairing your radio bypasses this.
Brand New Mechanism!
90 Day Warranty!
24 Hour Turnaround!
1CD, 6CD, DVD or Nav!

We replace worn buttons and knobs!
Lights out? We fix that!
Display out? We can fix some models.
We can repair a wide variaty of radios, and have compiled a list with pricing below. If your radio is NOT on the list, it does not mean that we can't fix it.
Give us a call at 952-707-6200 if you don't see your car model.
If you want to send your radio in for repair, please follow this ink to the
repair form
.