REPAIR 2010 - 2015 Porsche Navigation CD Player Repair ONLY
SKU:

Po008R

UPC:

Availability:

Please call for Availability! 214-575-5132 or 952-707-6200

Weight:

10.00 LBS

Shipping:

Calculated at Checkout
Frequently bought together:
Description
REPAIR YOUR Porsche Navigation CD Player!!
=> REPAIR ONLY
=>

=> We Will Repair your unit
=> 24-48 Hour turn-around time
=> Please call us at 214-575-5132 of you have any questions or concern.
=> This is for CD Player Repair ONLY!!
This repair service covers these part numbers:
95864297001, 7PP919193BK, 7P5035884S, 6678, 95864297300, 958642973X, CDR-31, 95864296400, 958642964X, 7PP035108, 7PP919193AR, PCM 3.1, 97064297101, 970642971AXDML, 970642971BXDML, 970642971XDML, 7PP919193S
and

many more

!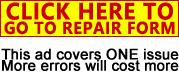 Will repair units from:
2011 - 2012 Porsche Cayenne
2010 - 2015 Porsche Panamera
If your unit is non-repairable there is a $35 diagnostic fee. The diagnostic fee will be waived if you choose to purchase a replacement from us.
May also appear as:
958.642.970.01, 7PP.919.193.BK, 7P5.035.884.S, 6678, 958.642.970.01, 7PP.919.193.BK, 7P5.035.884.S, 958.642.964.00, 958.642.964.X, 7PP.035.108, 7PP.919.193.AR, PCM 3.1, 970.642.971.01, 970.642.971.AXDML 970.642.971.BXDML, 970.642.971.XDML, 7PP.919.193.S
View All
Close
Additional Information
| | |
| --- | --- |
| Interchage Part No.: | VMB 970.642.971.01, 970.642.971.AXDML 970.642.971.BXDML, 970.642.971.XDML ,Model: DVD-Single 3.1 ,Navidaten Number: 7PP.919.193.S ,Telefon: 6678 ,Model: PCM 3.1 |
View All
Close